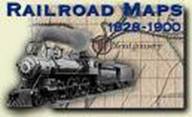 Eagle 1 Resources presently has over twenty (20) years of research on railroad property use issues and assist with the removal of annual crossing rental fees and/or encroachment fees. We have developed an extensive data base of maps, court cases, and governmental documents that address property use issues. This data base extends back to the early 1800's and can assist your company in determining questions concerning property interests and uses.
If you would like to discuss Eagle 1 Resources assisting you in this area, please contact us.
Please click here, to review examples of Interstate Commerce Commission Valuation Order #7 Records. These Maps and/or Form #107 records can be researched at National Archives to help determine land ownership information of railroad corridors. As shown on the attached maps, some railroads don't own the public road crossings as they may represent they do. Please contact our office with any question you may have.